Need Rental Equipment for Offshore Logistics?
Tiger Offshore Rentals is a leading provider of specialty rental equipment to the upstream offshore oil and gas market. Our fluid tanks and logistics equipment solve our clients' daily demands to safely move, transport and store drilling fluids and liquids, while our logistics equipment moves key assets such as pipe, dry sack material, groceries and supplies to and from the drilling and production sites.
Tiger Offshore Rentals has the largest portfolio of offshore equipment for lease or purchase in every major oil and gas port worldwide. Our fleet includes items such as fluid tanks, mix tanks, specialized equipment, baskets, containers & reefer units, cuttings boxes & waste skips, mixing units, slings & rigging and more to support your offshore logistics requirements.
All of our equipment is approved and inspected in detail to maintain safety during operations.
Our certifications include:
DNV 2.7-1, DNV 2.7-3, EN12079, IMDG (T-11), T7, T4, ASME VIII, IBC, IM101, MPT, USCGA, ISO, UN31H2/HM-181E NORMAN 05/DPC, ANTT Resolution 420, USDOT and UN31A .
These units are designed for offshore dynamic lifting in accordance with API RP 2A.
Our rotating equipment such as vacuums, pressure washers, steam cleaners and pumps assist in maintenance or support of rig and platform daily operations. While our ECOmat (synthetic/composite rig mat) helps to create a firm foundation for both client employees and machinery.
DIFFERENTIALS
Responsiveness to customers
Mobile teams for care and maintenance
Online certifiates
Fleet tracking
Own fleet
Largest portfolio of equipment models
So, whatever you need, whenever you need it, trust the team that is tried and tested. Tiger will MAKE IT HAPPEN!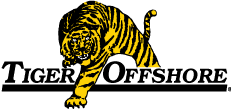 24/7 Dispatch: +877-844-3791 |  +409-951-4048
www.TigerOffshoreRentals.com